Detroit Casinos: Michigan area - Hotels Gambling and Caesars Windsor Casino Ontario Canada

Casino Detroit Magazine in Michigan, is the first Internet-based publication to cover the Detroit casinos, and surrounding areas including Harrah's Caesars Windsor Casino in Ontario Canada (non smoking) and the MGM Grand Detroit Casino & Resort, Greektown Casino, Motor City Casino and Soaring Eagle in Mount Pleasant. We also include listings of the local restaurants and hotels near the casinos. If you plan on traveling to Detroit to gamble, you can book your trip right here.  Find a Detroit hotel room and check availability from our hotel list, rent a car or buy airline tickets.
Click for Thoroughbred, Harness and Greyhound Handicapping Software Systems from $9.95.
What's Up at the Detroit and Windsor Casinos in December
If you're into live entertainment with a celebrity flair, then two of our Detroit area casino are offering what you want.  Well, one is MotorCity Casino and the other is Caesars Windsor Casino across the border in Ontario, Canada.  Although Greektown Casino and MGM Grand Detroit offer some great night time entertainment in their restaurants and bars, you won't find anyone famous at their venues in December.  Actually, MotorCity has two famous acts visiting:  Rick Springfield on Thursday, December 5, 8 pm and the legendary Aretha Franklin on Saturday, December 21, 8 pm a Sound Board.
If you have a valid passport and want to venture to Canada in December looking for someone famous to entertain you, you won't be disappointed because Caesars Windsor has attracted a few more celebrities to town.  You can see the country music star, Kenny Rogers on Sunday, December 15 at 8 pm, The Tenors for classical and contemporary pop music at The Colosseum on Thursday, December 19 at 8 pm, Donnie and Marie Osmond on Sunday, December 22 for their Christmas tour, at 8 pm, and Styx, the classic rock band, on Friday, December 27 at 9 pm.

MotorCity Casino Tickets
Rick Springfield, December 5, $40 to $50.
Aretha Franklin, December 21, $65 to $95.
Tickets are available through Ticketmaster, ticketmaster.com

Caesars Windsor Casino Tickets

Kenny Rogers, December 15, $45 Canadian
The Tenors, December 19, from $20 Canadian
Donnie and Marie Osmond, December 22, from $45 Canadian
Styx, December 27, from $25 Canadian
Tickets are available through Ticketmaster, ticketmaster.ca
Howard Berenbon
Thoroughbred Handicapping the Computer Way by Howard Berenbon--now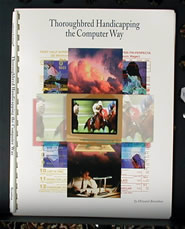 Learn to design your own Horse Racing Handicapping Betting System with our book "Thoroughbred Handicapping the Computer Way."
This book is out of print, but is available in limited quantities for just $29.95 now just $19.95 with free shipping (USA). ORDER NOW! VIEW CART/CHECKOUT

This is a classic book, first published in 1995 and updated in 1999, using a personal computer for horse racing handicapping. It includes programs using the Basic language (Basic is available free online), and works in most PCs. It also includes a calculator system, so you don't even need a computer. Only 50 books available.

Contains completed and tested horse racing handicapping systems
Learn to program your own thoroughbred handicapping systems
Details include selecting horse past performance data to analyze, assigning weighting factors, creating mathematical formulas for data manipulation
Offers a spreadsheet thoroughbred handicapping system
Includes a pocket horse race calculator system