Detroit Casinos: Michigan area - Hotels Gambling and Caesars Windsor Casino Ontario Canada

Casino Detroit Magazine in Michigan, is the first Internet-based publication to cover the Detroit casinos, and surrounding areas including Harrah's Caesars Windsor Casino in Ontario Canada (non smoking) and the MGM Grand Detroit Casino & Resort, Greektown Casino, Motor City Casino and Soaring Eagle in Mount Pleasant. We also include listings of the local restaurants and hotels near the casinos. If you plan on traveling to Detroit to gamble, you can book your trip right here.  Find a Detroit hotel room and check availability from our hotel list, rent a car or buy airline tickets.
Click for Thoroughbred, Harness and Greyhound Handicapping Systems -- Final Cost $19.95.
Winning Casino Blackjack for the Non-counter by Avery Cardoza
Review by Howard Berenbon

To be honest, and I an honest gambler, I have never seen a book on blackjack without a counting system or two. But I have always believed that you can win at 21 without counting. And it may be a good idea not to count if you're paranoid that some security guard on the casino floor I'd going to attest you for that illegal activity. So if you're a bit of a worrywart like me you'll welcome Avery's non-counting approach. Also, with the mix of multiple decks, I really don't see how counting can help much, but experts would likely disagree.

Before you get into the meat of the method, you'll find details on the rules of playing 21. Also it's good to know how to play the gaming before putting your hard earned money on the table. So you'll first get a quick course on playing correctly, what to do and what not to do. By the way, this is a revised edition of a classic title first published in 1981.

The point of the book is making money without the challenging job of counting the cards. After the basics are thoroughly covered Avery jumps right into several basic strategies. Then to the chapter, "The Winning Edge" where you'll start with "The Cardoza Non-counter Strategy--Five Easy Steps." Basically, you follow the small and high value cards dealt and increase or decrease your bet depending on what you see. No counting but you're still observing, and then using money management to enhance your wins. Simple. And You'll have an advantage over the casino with just a small mental workout.

This is a great book with everything you need to know about playing and winning blackjack. You'll find 15 fact filled chapters with lots of great advice from this expert Las Vegas-based gambler (with 200 published books under his belt). It's an easy read and includes lots of strategy charts with explanations and examples. If you study this book from head to toe, you'll have a real advantage and no counting required. This book is available from Gamblers Book Club in Las Vegas. Click for more information.
Howard Berenbon
Thoroughbred Handicapping the Computer Way by Howard Berenbon--now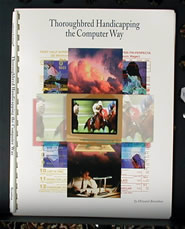 Learn to design your own Horse Racing Handicapping Betting System with our book "Thoroughbred Handicapping the Computer Way."
This book is out of print, but is available in limited quantities for just $29.95 now just $24.95 with free shipping. ORDER NOW! VIEW CART/CHECKOUT

This is a classic book, first published in 1995 and updated in 1999, using a personal computer for horse racing handicapping. It includes programs using the Basic language (Basic is available free online), and works in most PCs. It also includes a calculator system, so you don't even need a computer. Only 50 books available.

Contains completed and tested horse racing handicapping systems
Learn to program your own thoroughbred handicapping systems
Details include selecting horse past performance data to analyze, assigning weighting factors, creating mathematical formulas for data manipulation
Offers a spreadsheet thoroughbred handicapping system
Includes a pocket horse race calculator system