Detroit Casinos: Michigan area - Hotels Gambling and Caesars Windsor Casino Ontario Canada

Casino Detroit Magazine in Michigan, is the first Internet-based publication to cover the Detroit casinos, and surrounding areas including Harrah's Caesars Windsor Casino in Ontario Canada (non smoking) and the MGM Grand Detroit Casino & Resort, Greektown Casino, Motor City Casino and Soaring Eagle in Mount Pleasant. We also include listings of the local restaurants and hotels near the casinos. If you plan on traveling to Detroit to gamble, you can book your trip right here.  Find a Detroit hotel room and check availability from our hotel list, rent a car or buy airline tickets.
Click for Thoroughbred, Harness and Greyhound Handicapping Software Systems from $9.95.
Keeping Up with the Detroit Casino Buffets
If you're into high quality gourmet food and also like to dabble a bit at the casino machines or tables risking some money for fun or profit (most likely for fun), then our three local casino have that for you. You'll find many palate pleasers before or after you risk your life's saving (just kidding), and some quality entertainment when you've had enough food and gaming.  So, it's worth a visit to our local casinos, and you won't regret it if you love good food by some major chefs here in Detroit. Along with some great main dishes, you find homemade bread, fresh sushi, choice meats and a create-your-own dessert station.
MotorCity Casino's Assembly Line Buffet

MotorCity offers a variety of great foods with main courses that vary daily.   On Sunday they feature ribs, braised ox tail, honey glazed ham and barbecued pigs feet.  If you want some quality seafood, you'll want to visit MotorCity on Monday for their seafood buffet featuring Alaskan snow crab, friend shrimp and crab cakes.  On Tuesday they feature New York strip steak, Pork T-bone and grilled tuna steak.   If you're into Brazilian beef, then visit MotorCity Casino on Wednesday for dinner.  You'll also find spit roasted whole pig and roasted leg of lamb.  New Orleans style food is offered on Thursday dinner  including étouffée , crawfish, jambalaya and red beans and rice.  On Friday you'll find barbecue pork ribs, grilled pork chops and red hots.  The Saturday dinner menu features Mexican tacos, lamb shawarma and jerked chicken legs. Along with some great main dishes, you find homemade bread, fresh sushi, choice meats and a create-your-own dessert station.
Here's the current schedule and pricing:
Breakfast (Saturday & Sunday Only)--$13, 8 am to 11 am
Lunch Monday - Friday--$22, 11 am to 3 pm
Lunch Saturday & Sunday--$22, Noon to 4 pm
Dinner Sunday, Tuesday - Thursday--$27, 5 pm to 10 pm
Dinner Friday & Saturday--$27, 5 pm to Midnight
Monday Seafood Buffet--$39, 4 pm to 10 pm
MGM Grand Detroit Casino Buffet

The MGM Grand buffet offers a variety of gourmet dishes, and sides, prepared by Adam Brown, Executive Chef and Lou Garcia, Sous Chef.  You'll dine on all-you-can-east roasted New York Sirloin of beef and crab legs for dinner only, Brugundy short ribs at lunch, blackened salmon caesar, Thai style BBQ ribs, pork carnitas in salsa verde,  grilled NY steaks, wild mushrooms and onion confit, oven roasted turkey and much more.  Seafood night is on Tuesday.  They also have an extensive salad bar and a dessert station with a variety of delicious desserts.
Monday - Friday:
Breakfast, 7:00 am - 9:00 am
Brunch, 9:00am - 4:00 pm
Saturday & Sunday:
Early Bird Brunch, 7:00 am - 9:00 am
Brunch, 9:00 am - 4:00 pm
Daily, Dinner, 4:00 pm - 9:30 pm
Grand Buffet Prices--Adult

Breakfast (7 am - 9 am). Monday - Friday: $17.99

Weekday Champagne Brunch, Monday - Thursday: $19.99

Weekend Champagne Brunch, Friday - Sunday: $26.99

Weekday Dinner, Sunday - Thursday: $29.99

Weekend Dinner, Friday - Saturday: $36.99

Children
Breakfast $11.99
Brunch $14.99
Dinner $19.99
Greektown Casino
Sorry Greektown Casino patrons, they haven't had a buffet since their International Buffet in the summer of 2009, but they do offer a number of fine dining and casual venues.  And, you can also patronize the quality restaurants in Greektown.  
Howard Berenbon
Thoroughbred Handicapping the Computer Way by Howard Berenbon--now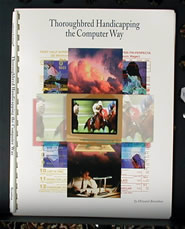 Learn to design your own Horse Racing Handicapping Betting System with our book "Thoroughbred Handicapping the Computer Way."
This book is out of print, but is available in limited quantities for just $29.95 now just $19.95 with free shipping (USA). ORDER NOW! VIEW CART/CHECKOUT

This is a classic book, first published in 1995 and updated in 1999, using a personal computer for horse racing handicapping. It includes programs using the Basic language (Basic is available free online), and works in most PCs. It also includes a calculator system, so you don't even need a computer. Only 50 books available.

Contains completed and tested horse racing handicapping systems
Learn to program your own thoroughbred handicapping systems
Details include selecting horse past performance data to analyze, assigning weighting factors, creating mathematical formulas for data manipulation
Offers a spreadsheet thoroughbred handicapping system
Includes a pocket horse race calculator system