Detroit Casinos: Michigan area - Hotels Gambling and Caesars Windsor Casino Ontario Canada

Casino Detroit Magazine in Michigan, is the first Internet-based publication to cover the Detroit casinos, and surrounding areas including Harrah's Caesars Windsor Casino in Ontario Canada (non smoking) and the MGM Grand Detroit Casino & Resort, Greektown Casino, Motor City Casino and Soaring Eagle in Mount Pleasant. We also include listings of the local restaurants and hotels near the casinos. If you plan on traveling to Detroit to gamble, you can book your trip right here.  Find a Detroit hotel room and check availability from our hotel list, rent a car or buy airline tickets.
Click for Thoroughbred, Harness and Greyhound Handicapping Software Systems from $9.95.
What's New and Entertaining at the Detroit Casinos
By Howard Berenbon
MGM Grand Detroit
Nightclubs are busy at MGM Grand Detroit. On Friday's, at Double Vision, DJ Whip is mixes the best in Hip Hop, Top 40, Old School and Dance. Also on Friday's at Ignite Sushi Bar & Lounge you'll find $10 Sushi & Sake from 6 to 8pm.
Motorcity Casino
If you're a Tigers fan, Motorcity offers a Baseball Package for Club Metro members. You'll catch the free shuttle to Comerica Park for a home game, and then ride back to the casino for some great food and more entertainment. Tickets are required; and you must be 21 years old. There's a hotel package with a deluxe room and 2 games tickets, including valet parking, from $229.
Greektown Casino
Greektown Casino is offering some new promotions for July when you join their GT Rewards. They're offering some free gilts and guaranteed wins: a free night at the hotel, a dining package and a chance to win a Ford Mustang convertible. If you're 55 years or over, be there on Wednesday or Thursday for some premiums.
Thoroughbred Handicapping the Computer Way by Howard Berenbon--now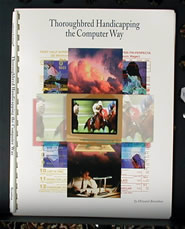 Learn to design your own Horse Racing Handicapping Betting System with our book "Thoroughbred Handicapping the Computer Way."
This book is out of print, but is available in limited quantities for just $29.95 now just $19.95 with free shipping (USA). ORDER NOW! VIEW CART/CHECKOUT

This is a classic book, first published in 1995 and updated in 1999, using a personal computer for horse racing handicapping. It includes programs using the Basic language (Basic is available free online), and works in most PCs. It also includes a calculator system, so you don't even need a computer. Only 50 books available.

Contains completed and tested horse racing handicapping systems
Learn to program your own thoroughbred handicapping systems
Details include selecting horse past performance data to analyze, assigning weighting factors, creating mathematical formulas for data manipulation
Offers a spreadsheet thoroughbred handicapping system
Includes a pocket horse race calculator system