Detroit Casinos: Michigan area - Hotels Gambling and Caesars Windsor Casino Ontario Canada

Casino Detroit Magazine in Michigan, is the first Internet-based publication to cover the Detroit casinos, and surrounding areas including Harrah's Caesars Windsor Casino in Ontario Canada (non smoking) and the MGM Grand Detroit Casino & Resort, Greektown Casino, Motor City Casino and Soaring Eagle in Mount Pleasant. We also include listings of the local restaurants and hotels near the casinos. If you plan on traveling to Detroit to gamble, you can book your trip right here.  Find a Detroit hotel room and check availability from our hotel list, rent a car or buy airline tickets.
Click for Thoroughbred, Harness and Greyhound Handicapping Software Systems from $9.95.
Internet Hold'em Poker by Avery Cardoza
Review By Howard Berenbon
This book is will teach you how to play Hold'em Poker and then apply the strategies you've learned to the world of online gambling.  You'll first find an online poker overview, then jump into learning the game including Texas Hold'em, Five and Seven-Card Stud and more. Once you've covered the 25 plus strategies, you'll head to the Internet and try your luck online.  The advantage of this book is in Avery Cardoza's expertise in the field of gambling. One problem that could crop up is finding a site that's safe for you and your money.  Also, recently, in the past 5 years or so, it's been illegal to bet the online casinos, and you may have problems funding your gambling fun.  Before you proceed, check with your credit card company to see if they'll allow you to buy in and bet.
The book is available in paperback and sells for $8.96. For more information or to order visit Amazon.com.
Thoroughbred Handicapping the Computer Way by Howard Berenbon--now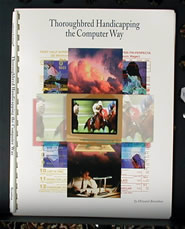 Learn to design your own Horse Racing Handicapping Betting System with our book "Thoroughbred Handicapping the Computer Way."
This book is out of print, but is available in limited quantities for just $29.95 now just $19.95 with free shipping (USA). ORDER NOW! VIEW CART/CHECKOUT

This is a classic book, first published in 1995 and updated in 1999, using a personal computer for horse racing handicapping. It includes programs using the Basic language (Basic is available free online), and works in most PCs. It also includes a calculator system, so you don't even need a computer. Only 50 books available.

Contains completed and tested horse racing handicapping systems
Learn to program your own thoroughbred handicapping systems
Details include selecting horse past performance data to analyze, assigning weighting factors, creating mathematical formulas for data manipulation
Offers a spreadsheet thoroughbred handicapping system
Includes a pocket horse race calculator system